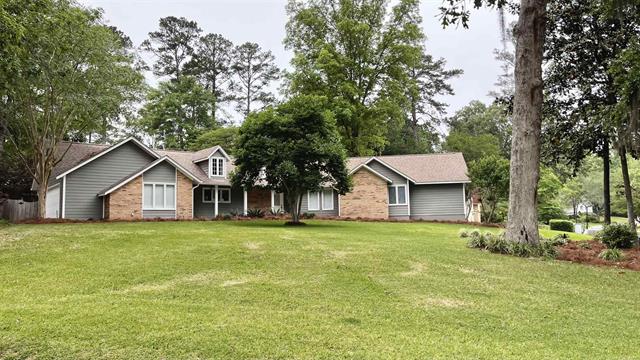 3483 Gardenview Way
$440,000
Built 1993, 3/2, pool, Fireplace
K updated, new floors, new lighting fixtures
Courtesy: Allison James Estates and Homes

April 12, 2023
We have completed the first quarter of 2023. I would like to weigh in on my perspective as a broker on where we are. The market is pretty well obscured by several factors. Rates are certainly on everyone's mind through the first quarter. Today's rates reflect 6.52% according to the Mortgage News Daily. A new factor that has filtered into the mix are the failure of more than one bank in the West. I think the average citizen like you and i cannot really get our minds around what exactly happened with those failures. We do know that the Silicon Valley bank was predominated by investors. Predominantly billionaires.
We can discuss the view across Florida from the eyes of the Florida Association of Realtors. I subscribe to their website and it is an authority that I regard as probably most up-to-date with their pulse on what's happening with real estate across Florida. According to FAR the demand for resale has probably elevated somewhat. But playing against low inventories, that we have statewide. the needle has not moved a great deal into the first quarter. As a matter of fact there is a drop in mortgage demand of 32.5%. Townhomes and condominiums pretty much follow January sales. Townhomes declined by 41%. Sales on condos declined 30%.
New listings across Florida declined 5% year over year. Townhomes for sale have declined 2.4% this according to FAR. However amidst these details prices are very stable. As a matter of fact the median price of a home across Florida actually rose 3.5%. The average price for a residential home stands at $395,000. However what has played into this is the fact that homeowners, not being able to get comfortable with where the market is,are electing to to not put their homes on the market. Over history people typically buy a home, live in it for a few years, maybe make some improvements on it and then put it back on the market with the end point being buying a larger home in a little better neighborhood. With the dynamics and pressure on the housing market currently people are just standing back and waiting to see where all of this falls out.
Closer to home here in Tallahassee we look at two predominant zip codes one being 32309 where I live here in Killearn Estates. Closed sales through February 2023 declined 4% in this zip code that's from 26 sales to 25 sales.The median sales price in February 2023 is $344,250 that is up from the median one year ago of $311,800 that's an increase in median sales price of 10.4%. Whereas through February of this year it took 24 days to sell a home. It took 17 days during the previous year that is an increase in time on the market of 41.2%. Pending homes currently are 28 versus 20 one year ago that's an increase of 40%. The inventory in this zip code stands currently at 2.3 months versus 1.6 months one year ago that's a 43.8% increase in inventory. A well balanced inventory is 6 months. We have not seen that number in quite a while. Metrics show the market in 32309 as stalled but still is showing some stability.
The other zip code is 32312 comprising northeast Tallahassee. Closed sales up to February of 2023 have been 25 compared to 31 in February 2022. That is a 19.4% decrease in sales. The median price of homes in this zip code has fallen to $385,000 as opposed to $408,586 dollars one year ago. That is a decrease of 5.8%. The time to sell a home through February of 2023 is 43 days as opposed to 25, 1 year ago. The active inventory in this zip code is 1.8 months as opposed to 1.4 months a year ago. So this tells us that the northeast is slowing somewhat. However, the inventory crisis continues, maybe even worsens, because of the hesitation on the part of sellers to put their homes on the market.
We do realize that we are not in Kansas anymore. Rates have more than doubled in the last six months. We are in a trend towards worsening inflation. The Fed is trying to gin up all sorts of approaches to quelling the rate of inflation. I'm not gonna say that housing is in a crisis. But it's certainly much more of a mixed bag than it was six months ago. However, I think any of us involved knew that the rate at which we were selling homes and the prices at which we were selling them was not going to continue forever. So what we were seeing right now is more of a correction. And I would declare that we are not in a real estate recession currently. Of course that's not to say that we could not be entering into recessionary period in general with our economy but more specifically in real estate.
I am a practicing broker of 20 plus years here in Tallahassee. I have lived in Tallahassee for 50 years. 30 years was in another industry where I was a sales representative, sales trainer, manager of government affairs where I had to deal with three state legislatures. I along with many other brokers and consumers had to deal with a real estate recession in 2007 - 2008. It was quite a jumble at that time, However, I have to say that I did more business in those two years than any other in my real estate career. We had to adjust and adapt our approach. We had to learn to deal with short sales and bank foreclosures. Software was developed to help us cope. However, the recession corrected itself. We moved on and real estate became quite hot again up until this softening of approximately six months ago.
I am anxious to help you in any way that I possibly can with the market. I have tools that I purchase from the National Association of Realtors, the Florida Association of Realtors and the Tallahassee board of Realtors. My focus is fairly clear as I keep abreast of all the information that is poured out concerning real estate.
Please call me today I am happy to speak with you and provide a consultation. Of course consultation is free always. It is much too murky and confusing to try to navigate the real estate market alone. Please take the professional with you
Lee Vass, Broker-Owner
Lee Vass Realty
License #BK3030934
3005 Shamrock South
Tallahassee, FL 32309
850.545.3439
elvass@elvass.com
Elvass.com (website)